At Bridgetown Window & Door, we understand that energy efficiency is a top priority when it comes to choosing the best materials for your projects and we are proud to offer Marvin windows & Doors as an energy efficient solution for our customers. Marvin windows & Doors have a number of features that make them an ideal choice to increase energy efficiency in homes.
Exceeds ENERGY STAR® Requirements
Marvin windows & Doors are designed with superior craftsmanship and engineering that meets or exceeds ENERGY STAR® requirements in all four climate zones. The most important feature of any window is its ability to insulate your home from the elements. Marvin windows utilize innovative technologies such as Low-E glass coatings and insulated frames to minimize air leakage and maximize insulation. This helps keep the inside of your building comfortable no matter what time of year it is without having to use as much energy as other window options.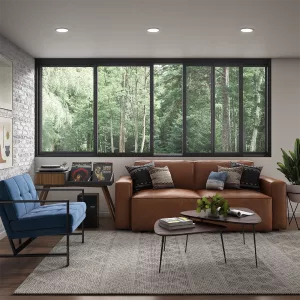 High-Performance Glass
One of the key elements that makes Marvin Windows & Doors so effective is the high-performance glass that is used in their construction. This glass feature low-e coating, argon gas insulation, and warm edge technology that help reduce heat transfer in and out of the home. These Features help to reduce heat transfer both into and out of your home, keeping it cooler in hot months and warmer in cold months. This not only helps keep energy bills low but also keeps your home more comfortable all year round.
High Performance Frames
Their ULTREX and High-density fiberglass frames are eight times stronger than vinyl and they never flake, blister, corrode or rot regardless of temperature or humidity levels. That makes them an ideal choice for any building project.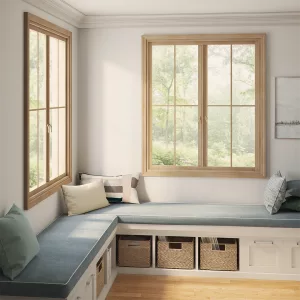 Custom Shapes and Sizing and Much More…
Marvin windows & Doors feature an elegant design in a wide range of styles that allow you to customize every aspect of the installation process including shape, size, color, hardware finishes and divided lite patterns – giving you complete freedom when it comes to designing the perfect look for each window unit. Marvin windows & Doors also offer several other benefits such as noise reduction and increased natural light into the interior space. Plus, they are easy to maintain; simply wipe them down with soap and water regularly and they will look like new!
Conclusion:
At Bridgetown Window & Door we understand that quality construction starts with quality materials like Marvin windows & Doors which come with superior craftsmanship and engineering designed specifically for energy efficiency. Not only do these windows & Doors provide superior insulation from outside temperatures but also offer additional benefits such as noise reduction, increased natural light into interior spaces and customizable looks that make them perfect for any building project. So, if you're looking for energy efficient solutions for your next building project then look no further than Bridgetown Window & Door!